Craving a refreshing and flavorful side dish? Look no further than this recipe for the best Asian cucumber salad! With a combination of crisp cucumbers, tangy vinegar, and a variety of herbs and spices, it's a perfect balance of sweet, sour, and savory.
Here's the recipe:
Ingredients:
2 cucumbers, thinly sliced
2 tablespoons rice vinegar
1 tablespoon sesame oil
1 tablespoon soy sauce
1 tablespoon honey
1 teaspoon grated ginger
1 clove garlic, minced
1/4 teaspoon red pepper flakes (optional)
2 tablespoons chopped fresh cilantro
1 tablespoon sesame seeds
Instructions:
In a large mixing bowl, combine the cucumbers, rice vinegar, sesame oil, soy sauce, honey, ginger, garlic, and red pepper flakes (if using).
Stir until the cucumbers are evenly coated with the dressing.
Cover and refrigerate for at least 30 minutes, or until chilled.
Just before serving, stir in the cilantro and sesame seeds.
Serve the cucumber salad cold as a side dish. Enjoy!
This recipe makes about 4 servings and can be easily doubled or tripled to feed a larger crowd. It's also a great option for meal prep, as it can be stored.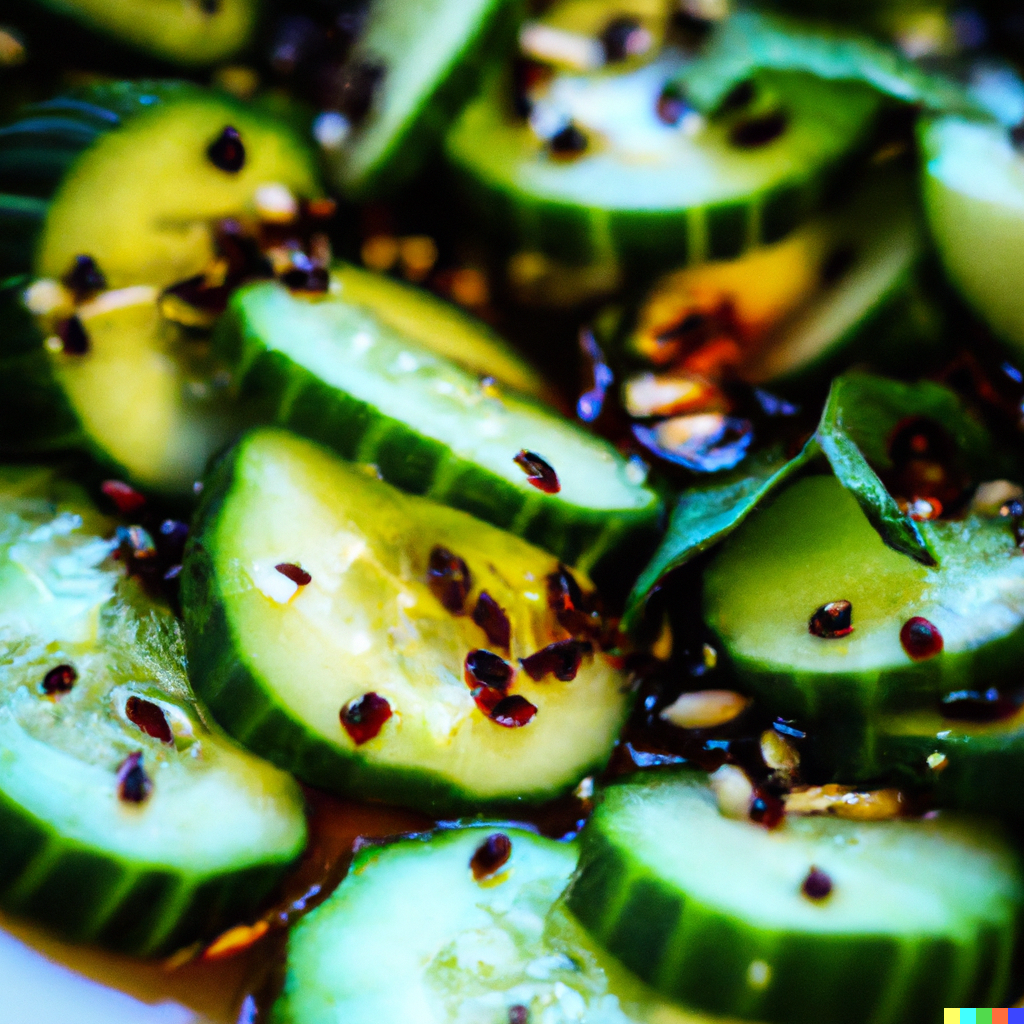 Asian cucumber salad is a popular side dish that is enjoyed in many countries in Asia. It originates from China, where it is often served as a refreshing and light accompaniment to heavier dishes. It can also be found in other countries such as Japan, Korea, and Vietnam, where it is enjoyed as a refreshing and flavorful snack or side dish.
This salad is often eaten during the summer months, when the weather is hot and humid and people crave something light and refreshing. It can be served as a side dish at any meal, or enjoyed as a snack on its own. It's a versatile and delicious addition to any meal, and sure to be a hit with the whole family.