Peruvian ceviche is a refreshing and flavorful dish that is enjoyed all over the country and has gained popularity around the world. It typically consists of raw fish or seafood that is marinated in a mixture of citrus juices, chili peppers, and a variety of herbs and spices. Here is a recipe for an authentic Peruvian ceviche that you can easily make at home:
Ingredients:
1 pound raw fish or seafood (such as halibut, shrimp, or scallops)
1/2 cup lime juice
1/4 cup lemon juice
2 ají limo peppers, seeded and minced
1 small red onion, finely diced
1 large tomato, diced
1/4 cup chopped fresh cilantro
Salt, to taste
Instructions:
Cut the raw fish or seafood into small, bite-sized pieces.
In a small bowl, combine the lime juice, lemon juice, and minced ají limo peppers.
Place the fish or seafood in a large bowl and pour the citrus and chili pepper mixture over it. Let the fish or seafood marinate in the mixture for at least 20 minutes.
Add the diced onions, tomato, and cilantro to the bowl with the fish or seafood. Mix well to combine.
Season with salt to taste.
Cover the bowl and refrigerate for at least 2 hours to allow the flavors to meld.
Serve the ceviche chilled, with a side of toasted corn or sweet potato and a cold beverage, such as chicha morada or a refreshing glass of cold beer.
This recipe yields about 4 servings of Peruvian ceviche. It is a perfect light meal or appetizer for a summer gathering or any time you are in the mood for a refreshing and flavorful dish. Enjoy!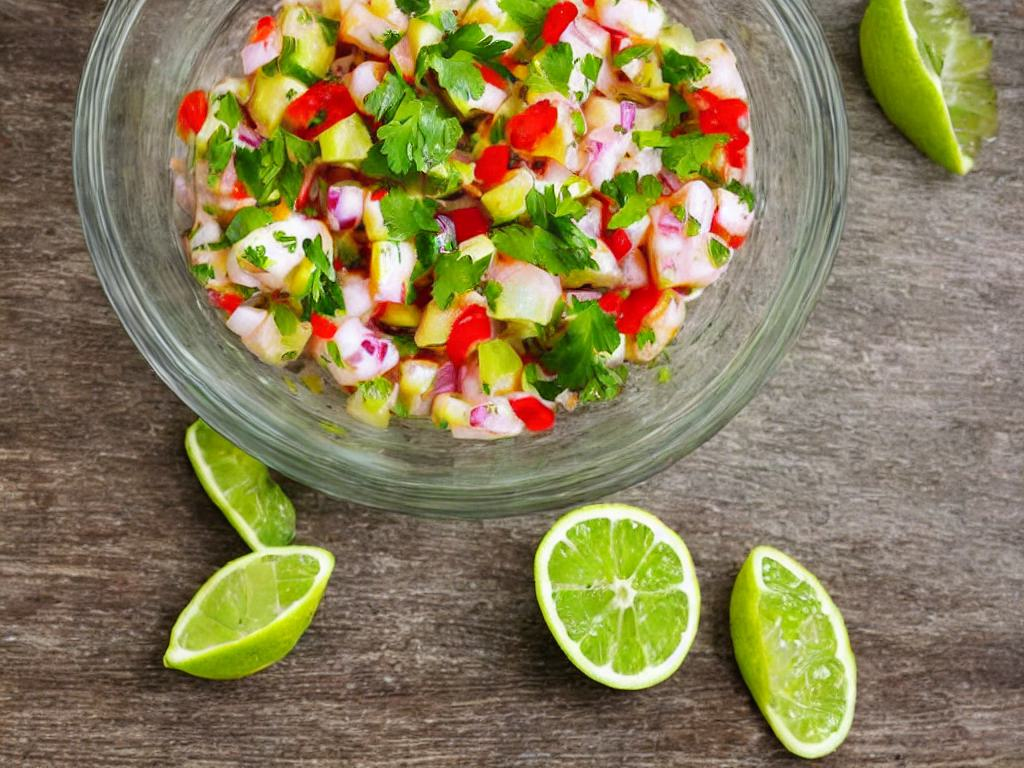 Peruvian ceviche is not only a delicious and refreshing dish, but it is also an important part of Peruvian culture and cuisine. In Peru, ceviche is often enjoyed as a social dish, shared among friends and family at gatherings and celebrations. It is also a popular street food, sold by vendors at markets and fairs.
In addition to its cultural significance, ceviche is also a nutritious and healthy dish. The raw fish or seafood is rich in protein and omega-3 fatty acids, while the citrus juices and vegetables provide a good source of vitamins and minerals.
Overall, Peruvian ceviche is a beloved dish that has become an integral part of the country's culture and cuisine. Its refreshing flavors and cultural significance make it a must-try for anyone interested in exploring the diverse and vibrant flavors of Peru.